Yearbook/School Publications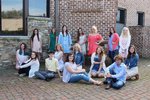 The FCHS Rebel Yearbook Staff, both an organization and a class, has the responsibility of creating and publishing a documented, historical record of each school year. Membership on the staff is by application only. Anyone interested may pick up an application for the following school year during registration.
As a yearbook staff member, you will…
♦ Work as a team to complete all sections of the yearbook.
♦ Write interesting articles/captions and take photos for the yearbook; meet with club advisers, students, and/or coaches to get background information or interviews.
♦ Work with community leaders and parents to sell business ads in the community and advertise sales of senior congratulatory ads.
♦ Meet deadlines and be responsible for completing your pages, designing layouts, proofing, editing, etc.
♦ Come to class on time and prepared to work. (Since it is a class, it takes precedence over extracurricular activities!)
The application process requires the following:
▪ Completion of the paper application
▪ A typed Cover Letter (minimum of 3 paragraphs explaining why you want to be on the yearbook
staff and what qualities you have that would make you a GREAT and FUN addition to our team.)
▪ 3 Teacher Letters of Recommendation. We require THREE recommendations describing your strengths as a student. At least one must be completed by an English teacher, as it is vitally important that our staffers be competent copy editors (copy=text). The other recommendations may be from teachers in any subject, but keep in mind that we are more interested in the opinions of those in literary, artistic or graphic design fields as those fields are more relevant to the work we do. Whomever you choose to write your recommendations should be able to address your abilities to work with others, meet deadlines, and perform well on major projects.
▪ Attend one afternoon workshop which includes an interview session.
* * * * * * * * * * * * * * * * * * * * * * * * * *
As a member of the staff, you, along with one of your parents, will be required to sign the following Yearbook Staff Contract:



Yearbook Staff Contract

I, ___________________________________________, a student at Franklin County High School, am in good academic standing. Should I be accepted to the yearbook staff for the next school year, I am acknowledging with my signature below that:



I must accept the assignments given to me and complete them before or on the day of their deadlines. I understand that failure to complete my entire assignment by the deadline, including any editing or photo-retakes, will result in a lower grade. If I am unable to complete a deadline because of illness or other excused absence, I will delegate my work to another staff member(s).



I understand and accept that in order to meet my deadlines or a staff deadline, I may need to stay after school and/or come in on weekends.



I agree to help other staff members finish their deadlines if I have completed mine.



If I transfer out of the class, I will make sure all assignments given to me at the beginning of the year and any current assignments are delegated to other staff members. I will inform the adviser about all unfinished assignments and work I have delegated before I leave the class.



I agree to meet my quota of $1,000 for business ad sales. I understand that ad sales are an important part of meeting our yearbook goals. (Exceptions to the quota requirement will be made only in emergency situations.)



I will be available and willing to help sell yearbooks during scheduled sales days.



I agree to handle all yearbook equipment, including cameras, yearbooks, computers, printers, and other supplies with care and to be responsible for replacement or repair if lost or damaged while in my possession.



I agree to attend all staff meetings. If I am unable to attend, I will contact the adviser.



I understand that more than one missed deadline will result in removal from the class and failing.



I will behave cordially and respectfully towards business owners, teachers, students, and fellow staff members at all times.



I will maintain an overall positive attitude in yearbook…yearbook is NOT the place for personal drama or petty arguments. Noncompliance could result in dismissal from the staff.



I understand that yearbook is an $85,000+ business, and by accepting a position on the staff, I will dedicate myself to meeting our goal and getting the job done to the best of my ability.